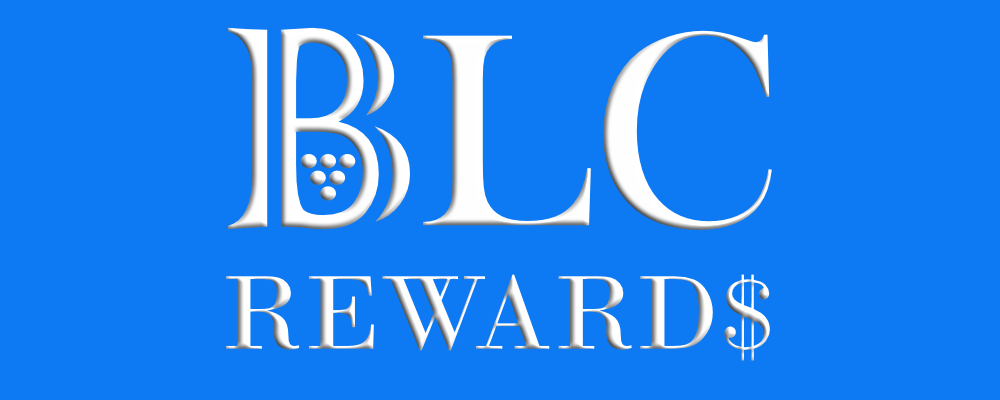 Become a Member of Our BLC Rewards Loyalty Program And Earn Cashback Rewards.
It's FREE! Sign-up at the checkout. It only takes a minute and you'll get rewarded for every wine and beer kit you buy!
Here's How it Works.
To become a BLC member you have to sign-up at the checkout. It only takes a minute. We will then issue you a BLC card like the one above. Every time you make a purchase at our store, have your card scanned and you'll earn points on eligible products. Each point you earn is worth one dollar. When you reach the threshold of 100 points you will be issued a BLC cashback certificate with a dollar value equivalent to the amount of points you have earned. For example if you have earned 120 points you will receive a cashback certificate for $120! See the chart below for eligible products and number of points you can earn.
Don't forget that you get BLC points for every eligible item—even sale and discounted items are included! Use this to your advantage during our sales and promotions to get even bigger savings! Drop by and sign-up today!
---
EARN POINTS AND GET REWARDED!
For each point earned you get one dollar back! A BLC Cashback Certificate will be automatically mailed to you when you reach the 100 point threshold! Use it just like cash to buy anything in our store.
| Eligible Product | What's Included | Points Earned |
| --- | --- | --- |
| Ultra Premium Wine Kits | RJS En Primeur, Winexpert Private Reserve | 20 Points |
| Premium Wine Kits | RJS Cru Select, Winexpert Reserve | 15 Points |
| Easy Drinking Wine Kits | RJS Cru International, Winexpert Classic | 10 Points |
| Economy House Wine Kits | RJS Heritage Estates, Winexpert On The House | 5 Points |
| Fruity Wine Kits | RJS Orchard Breezin', Winexpert Island Mist | 5 Points |
| Premium Beer Kits | Microbrew, Festa Brew | 5 Points |
| Craft Beer Kits and Cider | Mangrove Jacks, Muntons Flagship | 4 Points |
| Classic Beer Kits | All Other Beer Kits, Muntons, Coopers, Morgans, Etc. | 3 Points |
Have your wine made at Newfoundland's largest Ferment-on-Premise facility. You deserve to go first-class! We've been supplying craft brewers and winemakers with world-class products since 1993. Visit us today for a unique and fun-filled experience.